Visiting any church for the first time can be an intimidating experience.  We want to make it easy for you.
Your first visit to Grace Baptist Church will be exciting, friendly, and comfortable for your whole family. We want you to experience inspiring music, sound and helpful Bible teaching and preaching, friendly people, a place where you feel welcome, and a place you can call home!
Here are answers to your questions and what to expect on your first visit.
When are your services?
Our Sunday mornings begin with Sunday school at 10:00 AM. At GBC we have age specific classes for every age group. At 11:00 AM our Sunday morning worship service begins in our sanctuary. The focus of this service revolves around sound Bible preaching and teaching and a God-honoring music program that is sure to uplift and help you spiritually.
Sunday
10:00 AM Sunday School for all ages
11:00 AM Morning Worship Services for All Ages, including Children's Church
6:00 PM Evening Worship Service
Wednesday
7:00 Prayer and Bible Study, Kids Club, and Youth Group
---
Where is Grace Baptist Church?
We are centrally located on Ohio River Road (Route 62) between Point Pleasant and Mason, WV. We are conveniently located across from the turnoff to the Mason County Fairgrounds. The Church is 12 miles south of Pomeroy, Ohio.
---
What can I expect on my first visit?
You will have no trouble finding a place to park in our convenient parking lot.  As you enter the church, one of our friendly greeters will meet you with a smile and a handshake. They will help direct you and your family to the right classes and services. They can also answer any other questions you may have.
The 10:00 AM Sunday school and the 11:00 AM morning worship services are a time of refreshing Bible preaching and teaching with choir and special music. You will find a lively, welcoming, Christ-centered spirit in our service.  You and your family will fit right into our growing and diverse congregation.
We also have a Sunday school class tailored just for your age group and place in life.  From our newly remodeled nursery to the senior years, we have a class just for you! You will not only find sound Bible teaching, but will also find warm fellowship and a place  to connect within a smaller group setting.
---
Where do I take my children?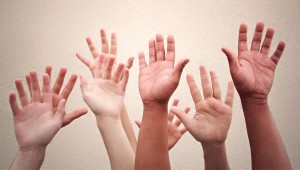 Starting with our caring nursery, there is a class tailored with each child in mind. The nursery is provided for children five years old and under. You will find our nurseries to be clean, safe, caring and staffed by people who are well trained to work in this ministry.
---
What about my teens?
We have Sunday school classes for middle school and high school ages.  Each class is Christ-centered and tailored to meet the ever changing needs of today's teenagers.
---
How should I dress?
We do not have a dress code at Grace Baptist Church. Our ministry leaders and many of our church family dress in the more traditional "Sunday Best".  Our main goal is that you would feel welcome and at home on your visit Grace Baptist Church!
---
Am I Expected to Participate in the Offering
We don't invite you to Grace Baptist Church for your money. Our service is our gift to you and we count it a privilege to be able to minister to you. We hope you will find GBC to be a place you can call home. While you are welcome to participate in the offering, please don't feel any obligation to participate as a guest.
---
Other questions?
If there's something we missed on this list, just contact us or ask anyone when you arrive.
Whether you're new to the Mason County area and looking for a church home, or it's been a long time since you've attended church, we hope your first visit to Grace Baptist Church will be unforgettable and the first of many!
We are here to serve you and your family, and we are looking forward to meeting you personally. We hope you will feel at home from the very first moment you step onto our campus! You will be a blessing to us just by visiting. We hope to see you at our next service.